The Guru Of Golf Balls Get Interviewed
There are few people in the world of golf that know as much about balls as Dean Snell. You might even label him the Guru of Golf Balls.
Two years ago, he founded Snell Golf with a business model committed to developing premium golf balls at affordable prices. Dean has almost 30 years in golf ball research and development, 40 U.S. granted patents and a successful background in plastics engineering. He spent 18 years at TaylorMade Golf Company in a variety of capacities, including Vice President of Research & Development, overseeing a team of engineers and was responsible for the invention of several key ball franchises including TP Red & Black, Penta (golf's first five-layer ball), Lethal and the TOUR Preferred line, which are played today by Sergio Garcia, Dustin Johnson, Jason Day, Justin Rose among others. He also led the design of the Noodle, Burner, RocketBallz and Project A golf balls designed to perform for average players.
Before his time at TaylorMade, Snell spent seven years with Titleist and Footjoy Worldwide where he co-designed several golf balls including the original ProV1, Professional, Tour Prestige, HP2 Tour and HP2 Distance. He worked closely with Tiger Woods, Phil Mickelson and Davis Love III to bring cast urethane technology into the golf market with Titleist Professional ball as a co-inventor of the original ProV1 and Professional golf balls.
Dean had a booth at the Canadian International Golf & Travel Show. While he wasn't there, he had some representatives who suggested I reach out to Dean for some specific questions about his company and golf balls in general. Here are Dean's answers about why he founded his company, why it's important for golfers to test balls, the importance of balls relative to clubs, how to determine what is the right ball for individual players and the merits of colored balls.
Q: Why did you decide to create your own company and what has been the reaction both in the industry and among consumers?
A: I have been very blessed to work with two of the best companies in golf (TaylorMade and Titleist). I was fortunate enough to work closely with all the top tour players in the world, and design and develop balls that they used to win major championships. The golf business has been declining, and people are not playing golf. Courses are closing, memberships are down, so I thought if I could take some of the things I have been able to do over the past and create very high-end tour level type golf balls and not have the huge tour contracts and big marketing expenses, I could pass all these savings on to consumers. So hopefully the consumers can have this top high-level performance, but make it affordable. Maybe they can play two rounds instead of one, improve their game to make them want to play more. There is no sacrifice in any performance, but huge savings in price as we ship in the U.S. direct to your home for free. Our sales were up almost 400% in 2016 over 2015, and we are ahead of that pace significantly this year. Things are moving in the right direction for sure, and we thank our consumers and supporters for the help in spreading the word, which helps keeps the cost down as well.
Q: Are any PGA or LPGA players using your balls?
A: We have had five tour players approach us after testing the balls. They all wanted to play the ball on tour, but they also like to get paid, which is not part of our business model at this time, so we respectfully declined. If we have to invest millions into the tour, then the ball price will climb and I am trying to keep this affordable for everyone. So we will have some tour players use the ball on tour, some even did it last year for free.

Q: Golf balls are the least expensive purchase for golfers compared to their clubs and irons, so how important are they in terms of what they mean to performance?
A: A golf ball is the only piece of equipment that counts on every shot you hit. People spend a lot of time hitting drivers and practicing on ranges, but they do not spend any time testing the ball they play. Golf balls are very different from 100 yards and in, but very similar in distance due to regulations off the tee. So players should take time to take different types of balls on the course, do some short-game testing from 100 yards and in, and find the performance that they like in this scoring zone. Most of the game is played within 100 yards, so you should find the ball that suits your game from this distance. It's worth the time to do this testing.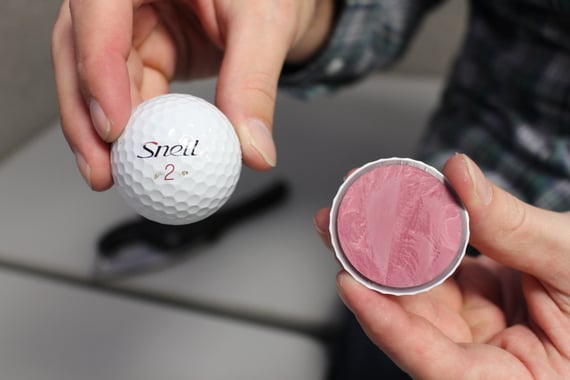 Q: How does a golfer know which ball is best for them? Is there a way to determine that with any kind of simulator?
A: I think simulators are a good way to see some spin differences, but the true distances are not accurate. They do not have aerodynamic characteristics programmed in for each dimple pattern. The best way to test a ball is on the course, where you can see the ball in action and how it performs, especially around the greens. It takes about an hour to go and play four to five holes from 100 yards and in, and hitting 100 yards, 70, 50, 30, chips, putts to see what you like about the ball. This is your scoring zone and the place you will lower your scores and also the place where the balls do have differences in spin and feel.
Q: Some golfers change clubs and grips, is it a good idea to change balls?
A: If you are a better player and like specific types of feel, spin and control, then staying in that class of performance is important. What I mean by that is, if you play a tour level type ball and switch to a lower spinning 2-piece ball, you will have trouble on the short game and controlling distances due to different levels of launch angles and spin rates.
Q: In your background developing balls, what were the significant changes that created better/higher performance?
A: There are two big changes that have occurred. The solid multilayered balls really changed how we can make golf balls with low driver spins, but higher short game spins. The 2-piece ball used to be low spin with drivers and low with irons and wedges. Balata used to be high with driver and high with irons and wedges. The multilayered balls allow us to create low driver spin like 2-piece, but higher short game spin for better control into the greens. The second is the core materials and chemistry. It used to be if you wanted a fast core, you needed to make it higher compression. If you went lower compression, you would lose significant speed. Today, we have ways to make 30 compression cores that have the same speed as 100 compression cores of the past. This allows us to make lower driver spin rates, longer distance, and not lose any ball speed. It's a big win in feel and distance.
Q: What are your thoughts about colored balls? They are starting to gain some traction among top tour players.
A: Colored golf balls have come, gone and are now back again. I think there is a very small market for yellow balls out there, extremely small at the tour level though. Time will tell on this one, as we will see if it catches on again.